Sac Pool Pros uses only the best and most advanced products in building custom swimming pools Some products are standard, while others, such as iaqualink, represent the latest innovations in swimming pool construction. Your design consultant will work with you to determine which products are essential for your project.
Below are sample products from some of the primary pool product categories. Additional product options may be available in our design center location
The JXi™ heater sets the standard in pool and spa heating with unsurpassed energy-efficiency and optional cost-saving Integrated Bypass technology that diverts water flow away from the heater when there is no call for heat. Boasting an 84% thermal efficiency rating and a low-NOx design, the JXi is available in both natural and propane gas models. The JXi also features advanced automation compatibility with AquaLink® systems and iAquaLink™ control, for anytime, anywhere convenience, and an ultra-compact, lightweight design, that allows for faster and easier installation—making it a top choice for pool professionals and pool owners everywhere.
i

AQUALINK

®

3.0

SMART DEVICE. SMART POOL. SMART YOU.
iAquaLink allows you to control your pool anytime, anywhere. Using our free app for your smartphone or web-connected device, you can control all the elements of your pool or pool/spa system, even when you're on the go.
iAquaLink can be used on more mobile device platforms than any other pool control system.
iAquaLink is Easy & Convenient
On the golf course or on the go, control your pool anytime, anywhere with iAquaLink.
Most intuitive and user-friendly mobile pool controller ever.
iAquaLink can be used alone, or combined with the complete line of wall-mounted or wireless AquaLink

®

 interfaces.
User accounts can be created in minutes, used immediately, and the service is free.
Control multiple pools from a single app.
Have the pool or spa ready to use as soon as you get home. Forgot to turn the temperature down while on vacation? Not a problem with iAquaLink.
Complete Control
Global, 24/7 control of any device connected to the AquaLink System.
Pool, spa, and solar valves
Pool temperature
Spa temperature
Waterfalls
Spillovers
Laminar jets
Light dimmers
Pool cleaner
Color and white lights
Landscape lights
Filter pump
Booster pump
And much more
TRUCLEAR
®

 SALT CHLORINATOR
SIMPLE, RELIABLE SALT CHLORINATION
The Jandy TruClear Salt System was designed from the ground up to be simple to own and maintain without sacrificing performance or reliability. It can also be controlled from a smart phone using the iAquaLink™ app when combined with AquaLink® Automation Systems. Features include durable Jandy Never Lube Valve construction, a compact design for easy integration in most equipment pad configurations, and a transparent window for quick visual inspection of blades. The energy-efficient TruClear also works at extremely low-flow rates making it fully compatible with variable-speed pumps.
WATERCOLORS NICHELESS LED LIGHTS WITH HYDROCOOL TECHNOLOGY
ENGINEERED WITH NEW HYDROCOOL™ TECHNOLOGY TO PROVIDE LONG-LASTING PERFORMANCE.
The Jandy WaterColors Nicheless LED lights with HydroCool™ technology use an innovative, energy-efficient design that harnesses the cooling power of water to create a cooler running, longer lasting* light. Designed to fit in a standard 1-1/2″ return fitting, these lights are smaller to accommodate complex pool designs, and operate at lower wattages, while providing the same brilliant illumination as previous models.
VS PLUSHP 2.7 HP
MAXIMUM EFFICIENCY. MAXIMUM SAVINGS.
VS PlusHP is a high performance, energy-efficient pool pump, in a mid-sized body that reduces energy costs by over $1,100* versus single-speed pool pumps. Designed for feature rich pools, the VS PlusHP is engineered with an enhanced motor providing dual voltage capabilities and two auxiliary relays — making it easy to add automation for simple, convenient pool operation.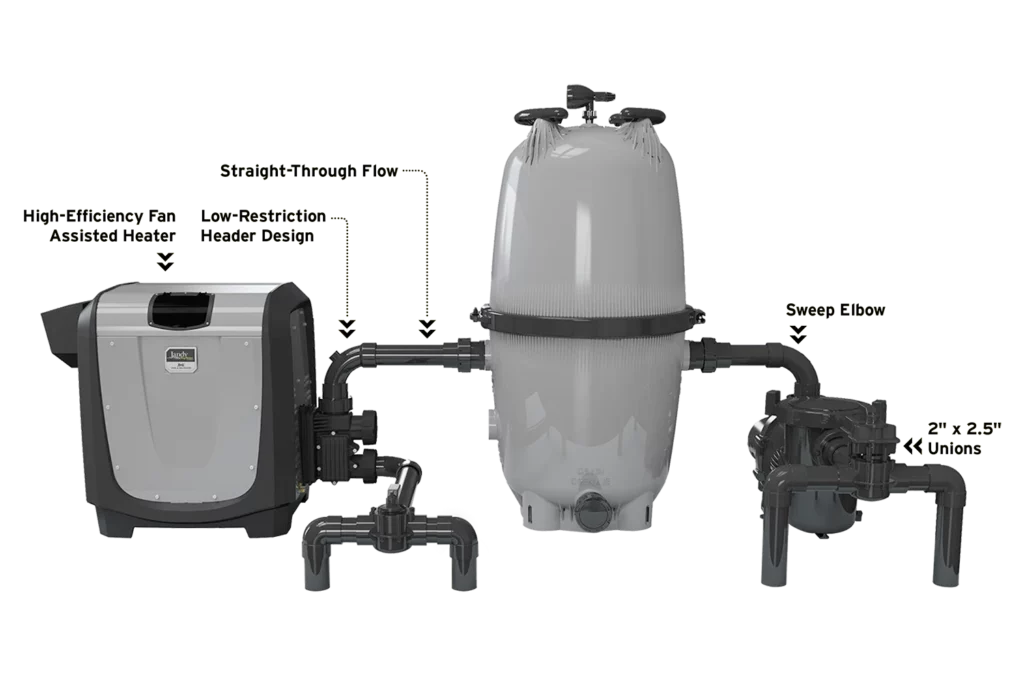 VERSA PLUMB BENEFITS
50% More Hydraulic Efficiency*
The Versa Plumb System reduces hydraulic resistance by up to 50% versus other equipment sets in its class.
Uses Less Horsepower
The Versa Plumb System's increased hydraulic efficiency allows for up to a 1/2 HP smaller pump to achieve the same level of flow, resulting in greater energy savings.
40% Faster Installation
Fastest installation due to our pre-assembled plumbing kits, which enable quick and consistent equipment plumbing design to reduce installation costs.
50% Less Plumbing Pipe and Fittings
Innovative system design requires less plumbing pipe and fittings, while increasing hydraulic efficiency.
*Comparison is between Jandy Versa Plumb System using a Jandy Pump, Versa Plumb Filter, LXi™ Heater, AquaPure® Salt System, and NeverLube® Valves with sweep elbows versus competitors' equipment using comparable pump, filter, heater, sanitizer and valves.