Swimming Pool Gunite Service
We have the skills to create an aesthetically pleasing structure with the shapes, depths, and curves you want. The gunite takes about three weeks to cure and dry, after which the crew will start the plastering to create smooth and seamless surfaces. Plaster waterproofs a gunite pool, and this final coating makes the sparkling inner surfaces that everyone sees. The extraordinary durability and design adaptability provided by steel, gunite, and plaster distinguish the entire product.
At Sac Pool Pros, we are here to provide you with all the information you need about Gunite. Our company offers customized services to swimming pool contractors for their projects. For more details, please drop us a line through this Online Form or call us at 916-722-7665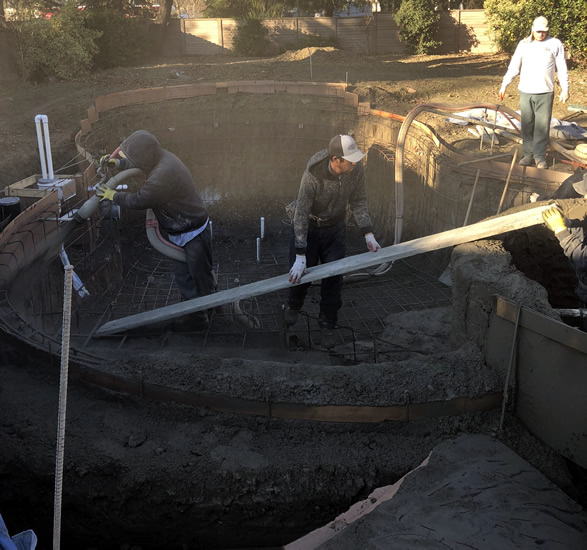 Gunite and shotcrete are both types of concrete applied using a high-pressure air hose. Crews spray the substance over a steel bar reinforcement framework. At Sac Pool Pros., we offer high-quality swimming pool installations using the best quality gunite materials and technologies.
While building a backyard swimming pool, you may often encounter the phrase "gunite." What is it, exactly? Is it distinguishable from concrete? And what is shotcrete—is it the same thing as shotcrete or something else? Gunite pools provide unmatched design versatility and aesthetic beauty. Let's review some of the fundamentals of this material and how it's employed in pool building.
Are Shotcrete and Gunite the Same Thing?
The critical point to remember here is that gunite and shotcrete are types of concrete. Between the two, gunite is the more commonly used word in relation to swimming pools. However, it is worth noting that gunite is a form of shotcrete.
True: Gunite is shotcrete's offspring. The technique and a single component are the only differences between them: Gunite is a dried mix watered on the worksite with a hose; shotcrete is a "wet mix" prepared previously and used at the site. Shotcrete includes gravel, while gunite does not.
Sacramento, CA * Woodland, CA * Vacaville, CA * Roseville, CA * Lincoln, CA * Rancho Murieta, CA * Folsom, CA * El Dorado Hills, CA * Wilton, CA * Sloughouse, CA * Citrus Height, CA * Carmichael, CA * Fair Oaks, CA * Dixon, CA * Rancho Cordova, CA *